TYLER HUDSON
One of the original members of the Kua Fam, it's hard not to love Tyler. Always rocking his favorite Galaxy jersey and swoop shorts, Tyler has been instrumental in helping grow the Kua Sky brand and spreading the Kua love.
Learn more about Tyler HERE, and see where his adventures take him by following him on Instagram: @skyhity
About TYLER HUDSON
HOME DZ: Skydive Delmarva
MAIN DISCIPLINE: Freeflying, Movement (Tracking/Angles), Swooping
Number of States I've Jumped In (6) Delaware, Pennsylvania, New York, Georgia, Michigan, and Florida
Number of Countries I've Jumped: 1
WHY KUA SKY?
TYLER: My first experience with Kua Sky was with the giant we all know as Chris. It didn't take long for everyone to fall in love with his fun goofy self. Chris brought out some of his gear after a few of us had asked him about the apparel we saw him wearing. It's very easy to recognize passionate people when you meet them, and Chris is one of them. He cares about his product and wants to make people happy. If he could, he would accept smiles, hugs, and a thank you as a form of payment.
I choose Kua Sky because I get to be a part of the family, much like why we joined skydiving in the first place. It's being able to give feedback, provide ideas, and helping something new grow, that really makes being a part of something that much better. I also love that Kua Sky doesn't limit itself. Between jumpsuits, all the different skydiving apparel, and their many different connections with skydiving manufacturers, you never know what'll be next.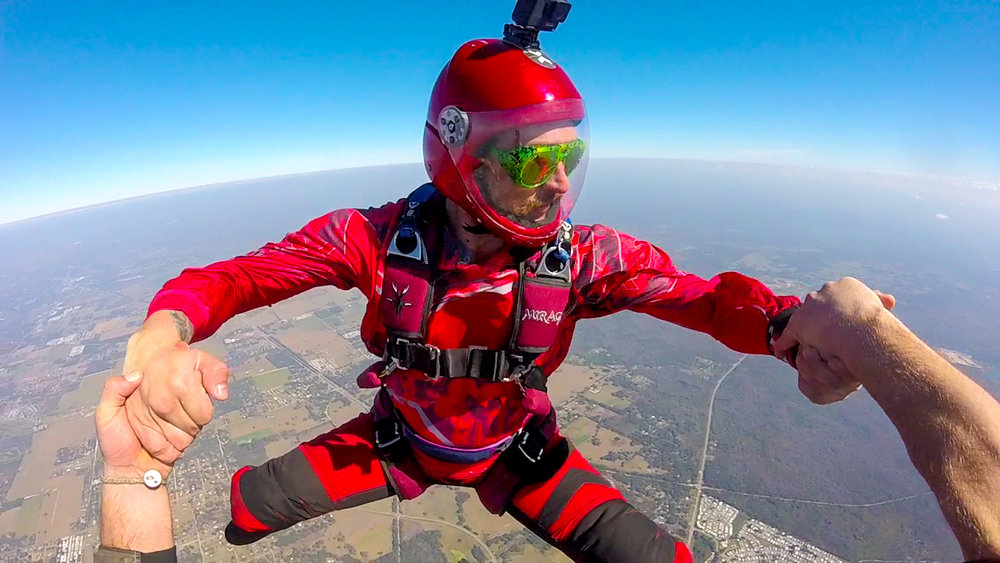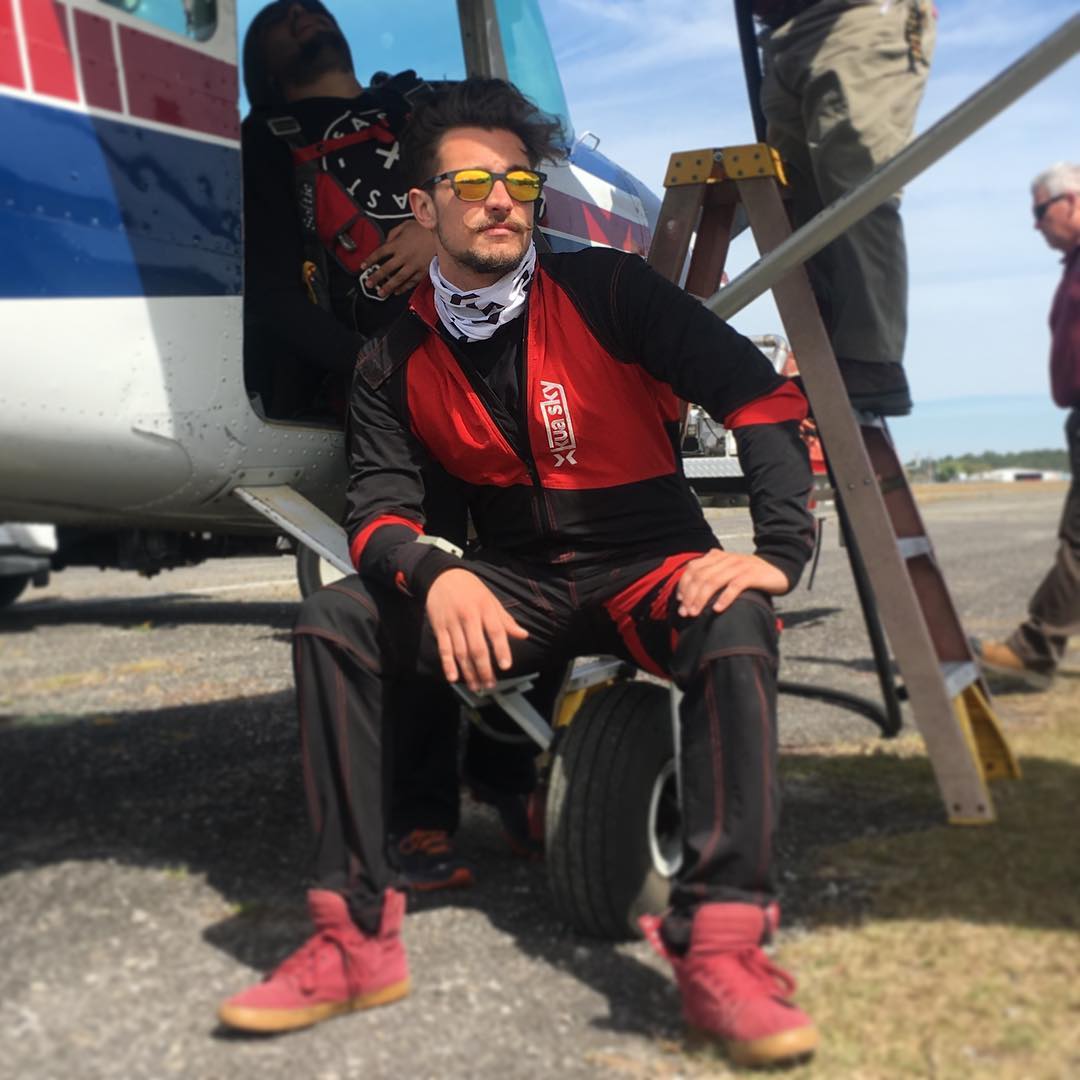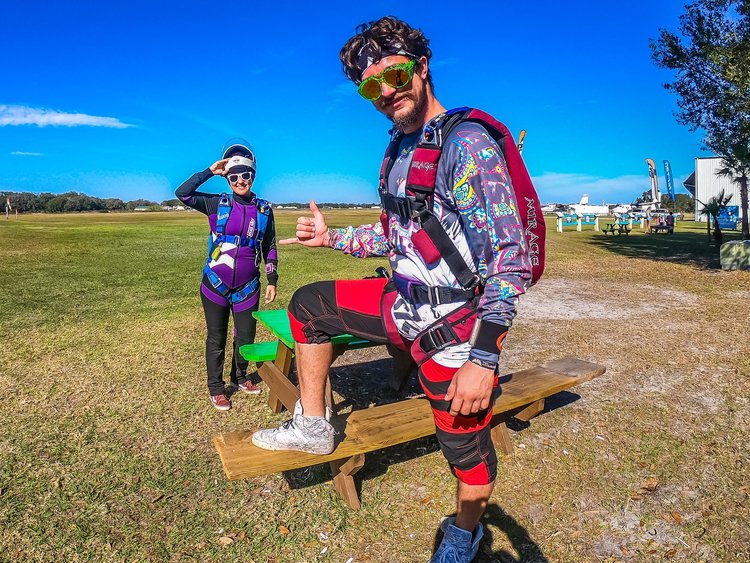 FAVORITE KUA SKY PRODUCT
Swoop Pants! Gotta look good before you can be good.
More About Tyler Hudson
Born in a little state known as Delaware on the 7th day of February 1992. Growing up, I traveled to many different places. Bouncing back and forth between divorced parents and being remarried into the air force, flying in airplanes was something I did often at a young age. I always had to have the window seat, staring at the world from above and being mesmerized by the clouds. Traveling around so often, I never got to attend the same school for longer than a year. I learned to enjoy making new friends and going on different adventures. My favorite location growing up was an even smaller place called Guam. It was like living on vacation year-round. The temperature was warm and the weather was beautiful, besides when the typhoons rolled around. I found my way back to Delaware and settled down at a private catholic school in high school.
After finishing my first summer job working at a go-kart track, my girlfriend at the time asked me if I wanted to learn how to pack parachutes. Duh! Of course, there's no way I could turn that down. Although the initial shocking look on my face might have suggested otherwise. So in November 2008, I started training with Keith, the pilot, and rigger of the DZ. After training all throughout the winter, I started my first season at Skydive Delmarva.
In June 2010 I made my first tandem, already knowing I was going to love it and continue to jump on my own. Here I was at 18 being thrown into the big open world, the fire was lit and my passion was discovered. It took me a while to build my jump numbers, always being so busy on the packing matt. But I do value those days of being stuck on the ground. Talking to students, first-time jumpers, and those whom I packed for, watching and learning everything I could. As much as we all love flying, it's the family community that made me fall in love with the sport. It amazed me that so many different people, from all walks of life, came together as one. Growing up I was always moving around, but here I finally found my home.
I attended Salisbury University and was a member of the Sigma Tau Gamma fraternity in college. Trying to balance all that and skydiving was harder than I could have imagined. Deciding a major was hard for me when I already knew what I wanted to do for the rest of my life. So I decided to put all my eggs in one basket and go for it. I used to tell everyone that I would never get a tandem rating, nothing about it appealed to me at all, but it has been one of the best decisions I've ever made. I traded my education for ratings and did what I knew best. We all love skydiving and jumping with our friends, but it's that first experience with someone that's never jumped before that really fuels my passion. Being able to give back and encourage people to want to jump by themselves, and show them that it's a real possibility. That is what helps this sport continue to grow and develop.
| | |
| --- | --- |
| ATHLETE |  Tyler Hudson |
| FAVORITE KUA SKY PRODUCT | Swoop Pants |