MISSY CARMEN
Petite & pretty in purple, Missy is a crucial member of the Kua Fam. When she's not packing parachutes you can find her flying in the sky in her favorite purple freefly suit.
Learn more about Missy HERE, and see where her skydiving adventures take her by following her on Instagram: @missyzzz
ABOUT MISSY
HOME DZ: Skydive Delmarva

MAIN DISCIPLINE: Belly & Tracking

Number of States I've Jumped In: 4
WHY KUA SKY?
MISSY: My relationship with Kua Sky began at the 2017 Summer Solstice Boogie at Skydive Delmarva. I had known Chris, but I finally his other half, Wendy. Besides how well-made and cool the merchandise they were showcasing was, I loved their story and admired how they were building Kua Sky from the ground up. I couldn't help but purchase swoop jerseys for Tyler and myself! As a newer jumper and packer, I was stoked to support and be a part of a new brand!
The thing I enjoy most about Kua Sky is the connection made between people who support and wear the brand. There was an instance in Florida this winter in which two of my friends, who had previously not met, made a connection because one of them was wearing a Kua Sky jersey. They were both at a DZ in Florida and one friend spotted the jersey on another jumper. He went up to the other jumper and asked if he knew Tyler and me since we were the only ambassadors at the time. They put their guards down and began an instant friendship, and that's what it is all about. I love to spread the KUA LOVE!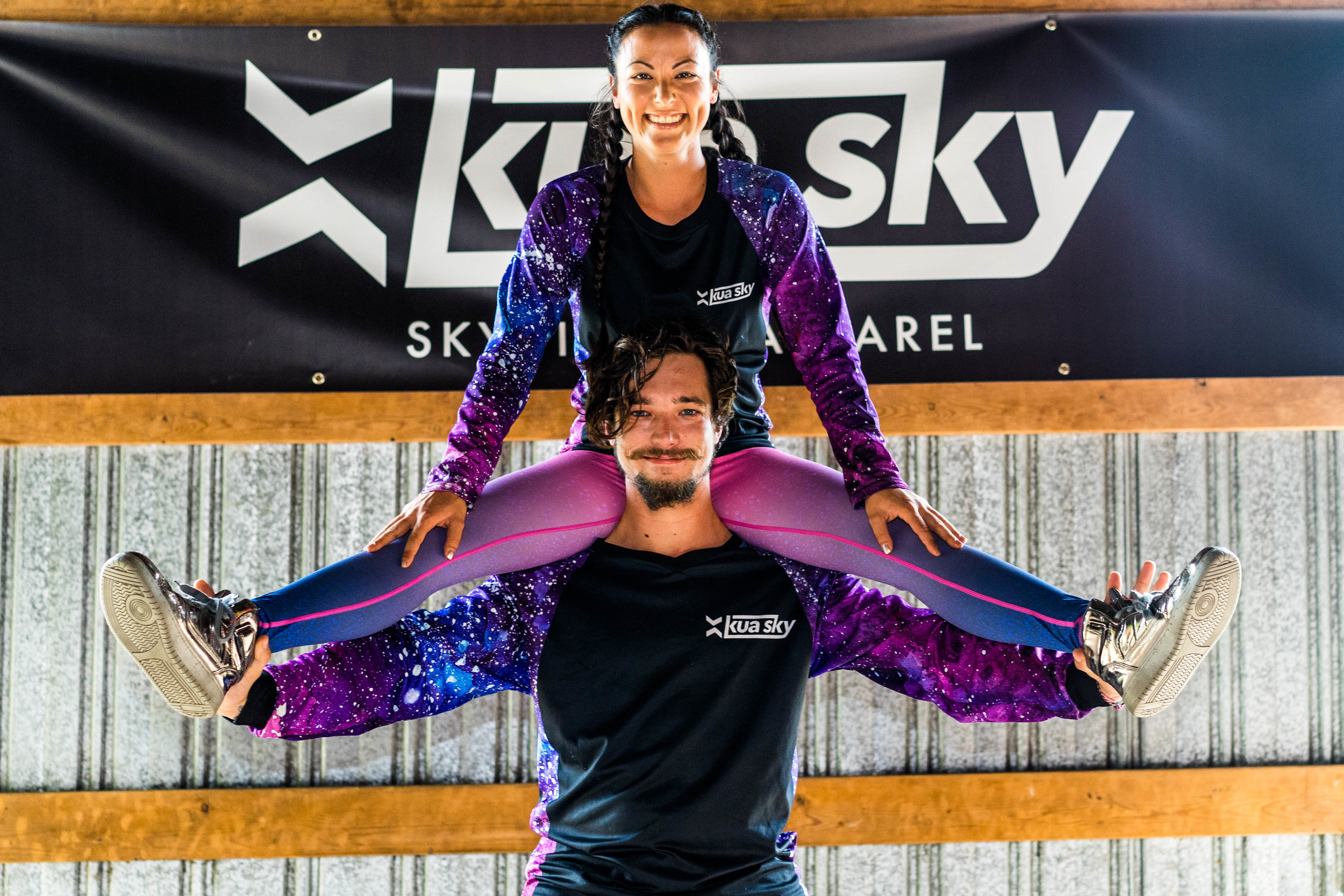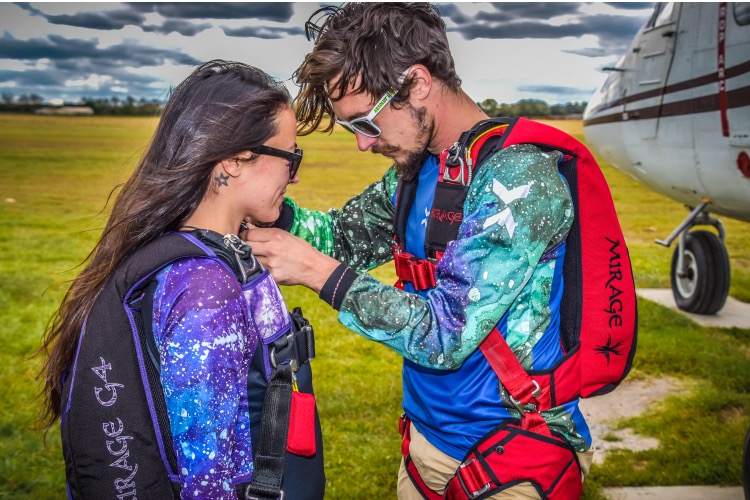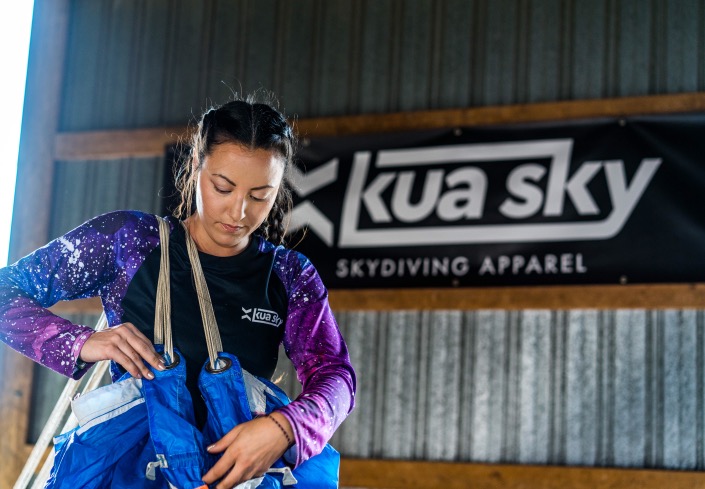 FAVORITE KUA SKY PRODUCT
Leggings! Especially the purple ombre leggings!
More About Missy Carmen
My name is Melissa, but my friends call me Missy! I am 29 years young and I am from Everywhere, USA! My parents and I moved around a lot when I was a kid, as my father was in the United States Air Force. I did most of my growing up in Waldorf, MD (a growing suburb of D.C.). I was an average adolescent; I started working in a restaurant when I was 16, graduated high school when I was 17, went on to a community college to receive an Associate's Degree in Communications and eventually moved out of my parent's house when I was 22. After receiving my college degree and continuing to work in the same restaurant and live the same routine, I realized that unlike most of my peers, I had absolutely no idea what I wanted to do with my life.
Fast-forward a few more years: I was working 2 restaurant jobs and going out a lot. Deciding to shake things up a bit, I decided to join some people very close to me and move to the beach for the summer to work seasonal restaurant gigs. Due to promotions we received, we ended up making a permanent residence in Ocean City, MD.
In August of 2015, one month after my 27th birthday, I was asked by a friend at work if I wanted to go skydiving. Assuming I'd never get the opportunity again, I hesitantly said yes. Life at the beach had become ordinary as well and I was looking for a change. After scheduling with Skydive Delmarva, making a down payment to secure my slot, and getting weathered out until the following week, the day had come.
There I was, with 5 of my friends (2 of whom had previously made a tandem skydive), at 9:30 in the morning, ABSOLUTELY PETRIFIED. After checking in and signing my life away, I heard the call over the intercom to be paired with my instructor. That was the moment I met Tyler. I could probably go on indefinitely about that first skydive and that whole day in general. To be put simply, I had the best experience of my life. I got a taste of what it is like to fly!
Meeting Tyler was unexpected and it completely changed everything. He showed me the world from a different perspective. Without that experience, I would have never started soul-searching. I certainly would have never found Kua Sky. In the summer of 2016, after 6 more tandems with Tyler, I decided to complete the AFF course at Delmarva! I became very intrigued with the skydiving lifestyle and knew that I wanted to be a part of it. In the fall of that same year, I "cut away" from restaurant and beach life and joined Tyler on his annual migration to spend the winter working in Florida. That is where I received my A-License and more importantly, where I began training to pack parachutes!
My favorite thing about skydiving is that it does not discriminate. It is challenging and constantly evolving, yet almost anybody can learn how to do it! It isn't just physically challenging. It is mentally challenging and that makes for a euphoric sense of accomplishment at the end of every jump! It's amazing to be a part of the progression of human flight! It is also interesting to witness how different humans learn to fly and learn how to overcome their fears.
| | |
| --- | --- |
| ATHLETE | Missy Carmen |
| FAVORITE KUA SKY PRODUCT | Leggings |