KELSEY KROBERT
Kelsey is our desert-based brand ambassador, jumping in both her home DZ in Arizona and has even jumped over the pyramids in Egypt.
Learn more about Kelsey below and see where her adventures take her by following her on Instagram: @kelzkrobert
ABOUT KELSEY
HOME DZ: Skydive Arizona
MAIN DISCIPLINE: Freeflying and accuracy landings are my jam, but have goals of getting into angle flying and wingsuiting this year!
Number of States I've Jumped In: 4 (CA, AZ, UT, FL)
Number of Countries I've Jumped In: 4 (US, Panama, Canada, Egypt)
WHY KUA SKY?
My friend and fellow ambassador told me about the brand and I originally fell in love with our galaxy jersey (I have a secret obsession with anything galaxy) and had to have one to match my rig. I really like how colorful and fun the brand is and the products are fantastic quality for great prices. Skydivers love to show off their own colors and style in their skydiving attire, and I feel like everyone can find something at KuaSky that helps them do that!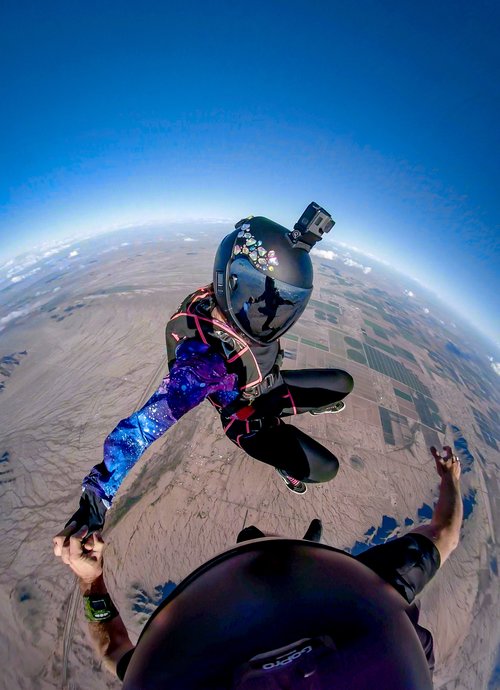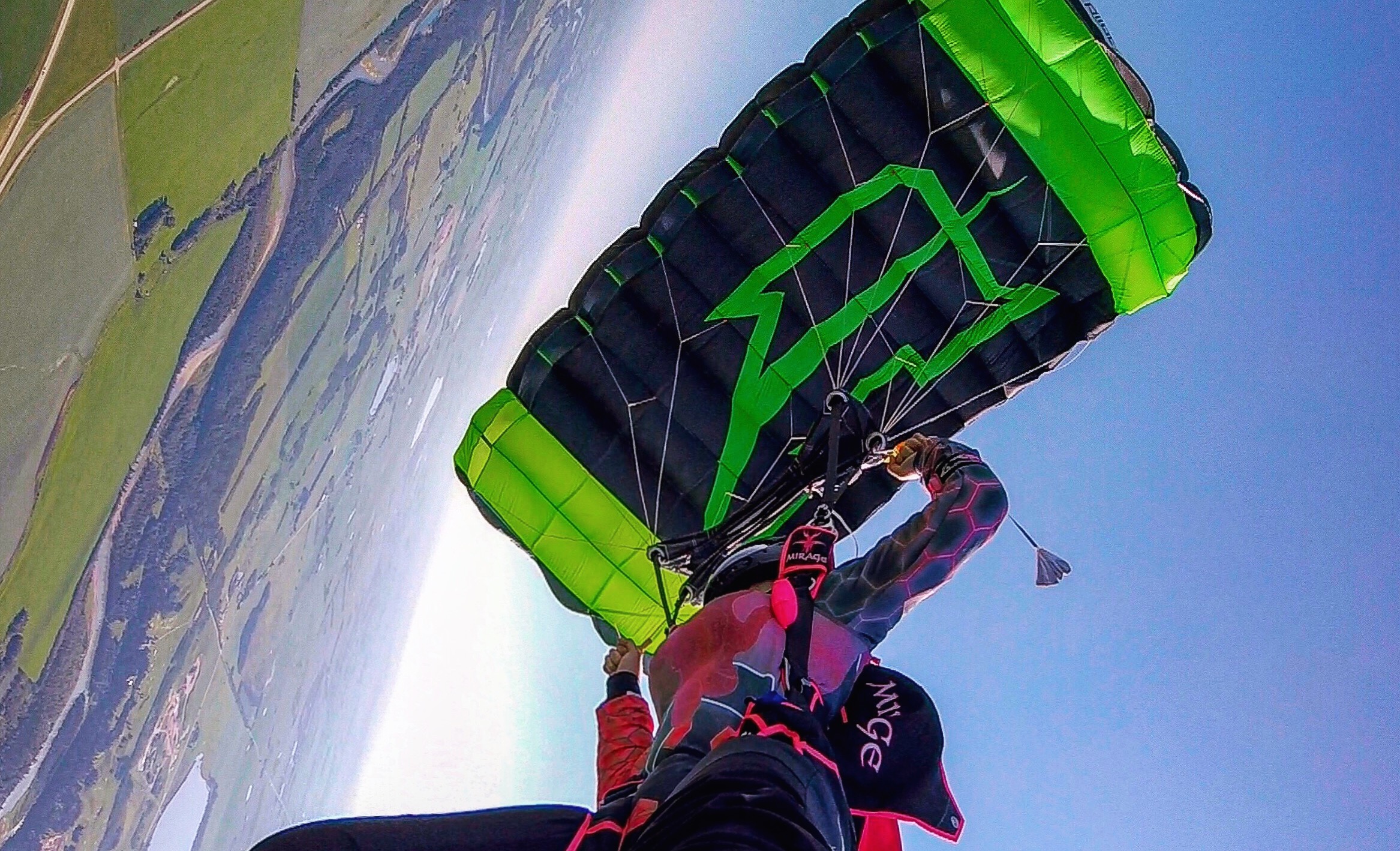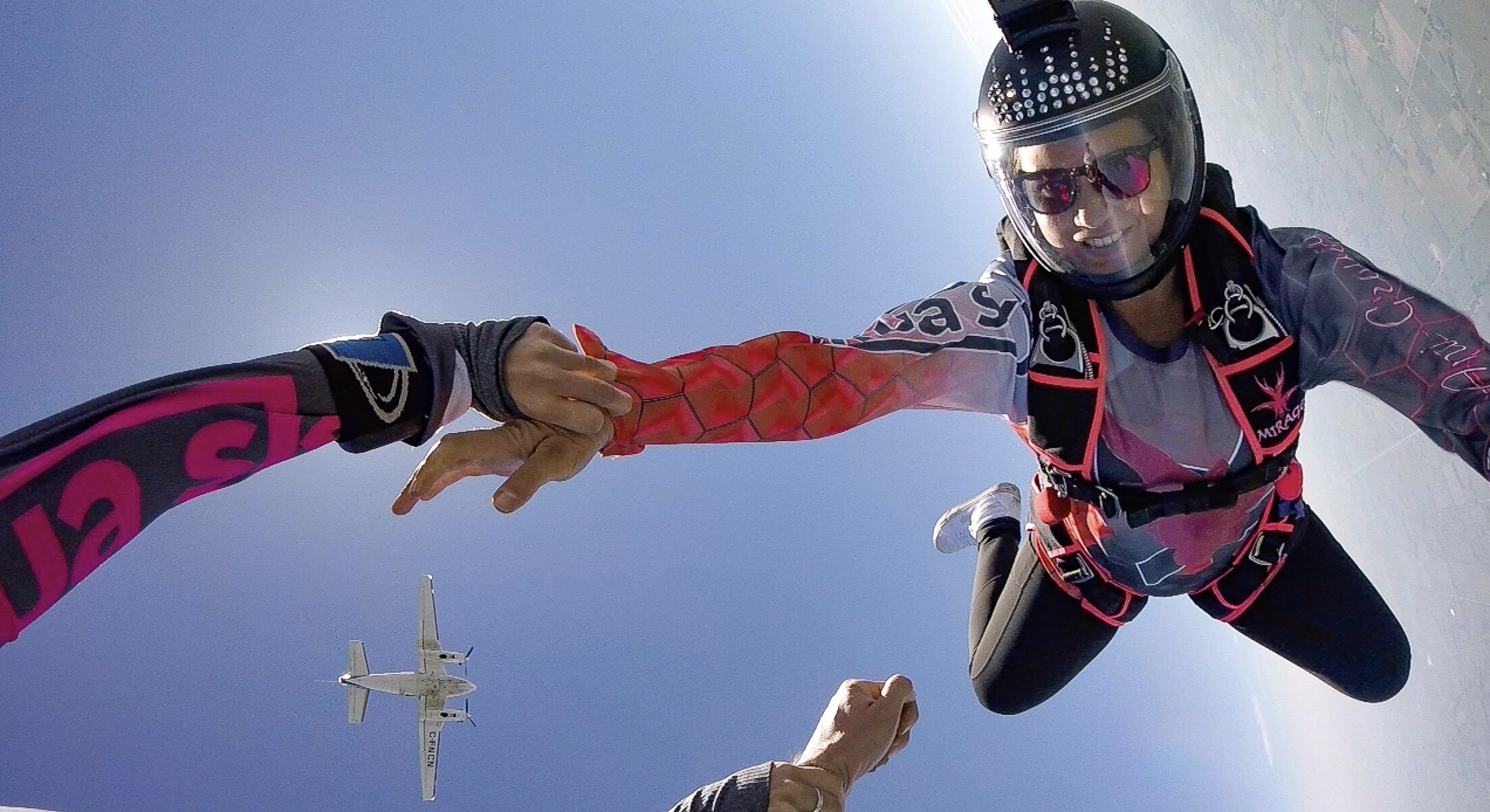 FAVORITE KUA SKY PRODUCT
Skyhigh Blue Leggings, Hexxus Jersey, and our snapback hats!
More About Kelsey
Originally born in Los Angeles, went to high school and college in Tampa and currently live in Phoenix. You could say I love the heat! Growing up I never felt like a girly girl and did all the tomboy things. I went to nationals for wrestling in high school and play through college for USF. Traveling abroad to Italy in college really opened my eyes to traveling and the thrill of experiencing new places. Since then I've tried to travel to a new state or country every year. I traveled a lot for work (implementing medical scribe programs) for a long period of time so I learned to be very independent and went on lots of adventures on my own, which I found the be very rewarding in itself. When I moved to Phoenix, I picked up mountain biking and made it my mission to hike all the best spots in the state.
On a vacation in Canada with a friend, we were passing through a little mountain town called Golden on our way to Banff. I always had skydiving on my bucket list and had pictured doing it somewhere beautiful with mountains or near water and Golden fit the bill. On that 4th of July 2017 I did my first tandem skydive at Extreme Yeti, where I met a scruffy Canadian named Chris. I came to find out that Chris had learned how to skydive in Panama, which I thought was funny since I'm half Panamanian (thanks mom!). We exchanged info and a few weeks later I came back to visit Chris and beautiful Golden again. I spent a lot of time watching Chris and his friends do tandems and fun jumps and I became fascinated with how it all worked, listening to their conversations and yearned to be apart of that world. Fast forward a few months and I was set to start AFF in Eloy at Skydive Arizona. As soon as I landed from my first jump, I really understood why everyone thought it was so much fun. In my first 100 jumps from Oct-Dec, I had already jumped in two countries, three states, four different planes, a heli and a balloon. I was hooked! I ended up breaking my leg landing on Contadora Island in Panama, but only let it stop me for about three months before I was back in the sky. Since then, I've received my coach rating, learned how to freefly and got to skydive over the pyramids in Egypt.
The people I've met and friends I've made through skydiving are what make the sport most amazing to me. There's people from all sorts of backgrounds, ethnicities, occupations but we all share two things in common: a love for jumping out of planes and a real appreciation for life. The community at Skydive Arizona has grown to be a sort of second family to me and I'm so proud to call it my home. I also love that there's so many different avenues of skydiving you can learn. You can be a camera flyer, freeflyer, wingsuiter, belly formations, VFS, freestyle. The list goes on and on and I'm so pumped to spend my life trying it all! Lastly, nothing beats getting to combine my love of traveling with skydiving. Getting to experience new places from the sky is now a mandatory part of the itinerary for any trip.
| | |
| --- | --- |
| ATHLETE | Kelsey Krobert |
| FAVORITE KUA SKY PRODUCT | Skyhigh Blue Leggings, Hexxus Jersey, snapback hats! |